Every once in a while, I will get an e-mail that sounds something like this:
To:

john@donormanager.com

Subject: Help!!!

I downloaded the upgrade, and when I opened the program all my records/contacts/partners and entries were GONE. How do I get them back?

I assumed the upgrade would automatically save all my existing DM entries.

I had ALL of 2006 in there and am panicked that it's all gone for good.

What do I do?
Are you finding yourself in that situation?
First of all, don't panic! Your data is almost certainly still there.
Depending on how you downloaded and installed the update, there is a good chance that the new update simply installed into a different directory than you were using before and it can't find your older data set.
So, here's how to fix it.
First of all, look at the shortcut that you are using to start the DM. Right click on that and choose properties. Let's find out where the new version of the Donor Manager is installed.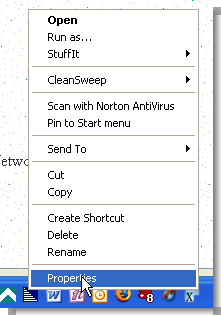 You should get a window that looks something like this: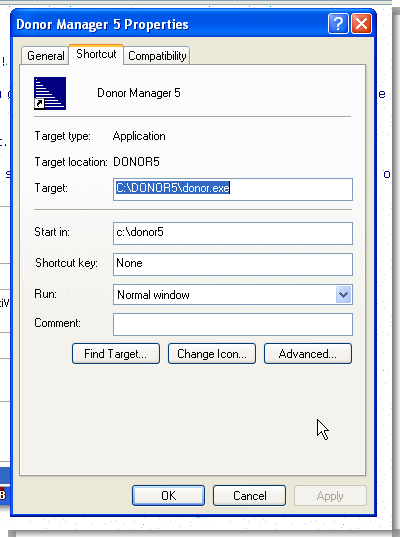 Now, that tells me that my copy of the Donor Manager is running from c:\donor5.
Now, some people install the donor manager there ... in c:\donor5. Other times people install it in c:\program files\donor manager. That would look like this: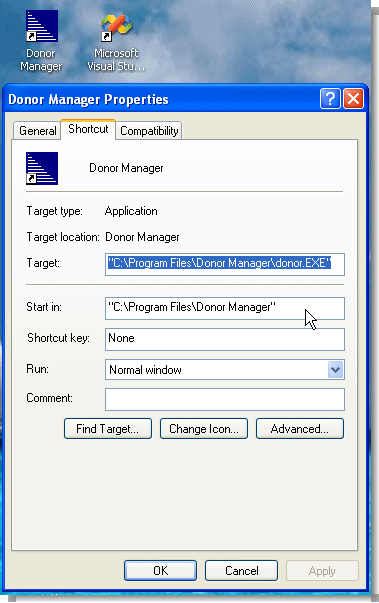 I'll bet you have 2 copies of the donor manager installed ... one copy in each of those locations.
So. Try this. Find the OLD copy of the Donor Manager. Using Windows Explorer or "My Computer" navigate around the folders until you find the other, old copy. You'll know it is the older copy because if you double click the program "donor.exe" in that folder, it will start the program with all of your data in it!
For example, double click this file to start the donor manager in c:\donor5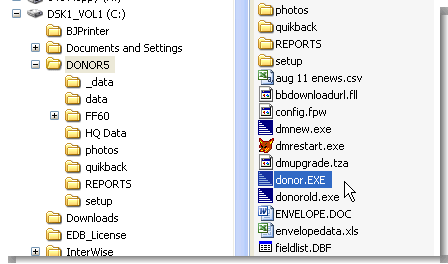 But, double click this file to start the copy of the program in c:\program files\donor manager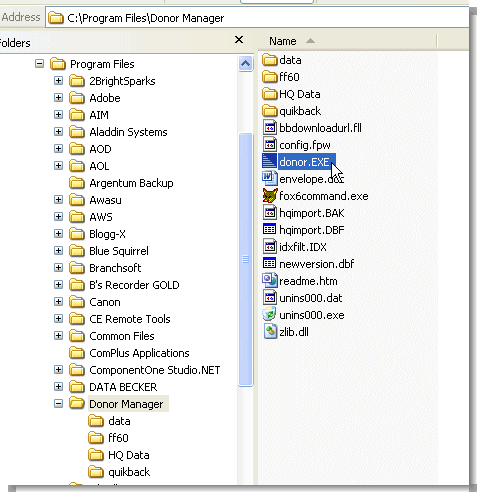 So, we just have to figure out which one has your "live data".
Once you find the live data, then use the "Pack and Go" routine to make a copy of your data file that you can then transfer to the other, newer copy of the donor manager.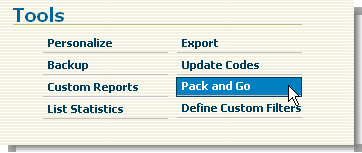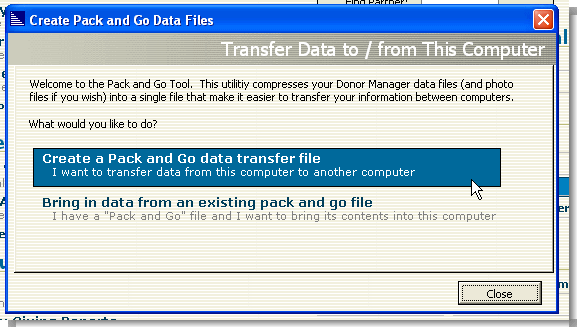 I'd say put the pack and go file onto your desktop so you can easily find it in the next step.
Now, once you have made a pack and go file, then quit the old version of the donor manager, and start up the newer version.
Then, select pack and go again, but this time, select the second option: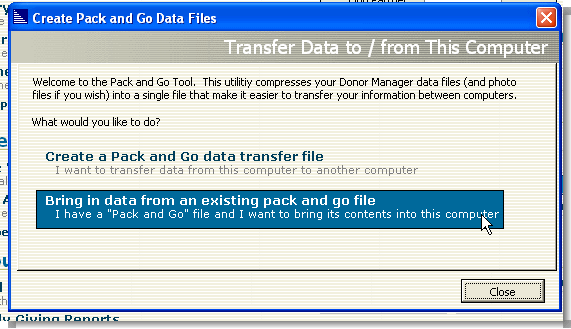 Point it to the data file that you just made (and saved on your desktop) and it should bring that data in, and you will be all set to go!
Once you are sure where your CURRENT donor manager data set is (and that you have it carefully backed up), you will probably want to delete that older donor manager installation so you don't risk keeping two, possibly out of synch installations of the program on your computer.
Now, that is a sure prescription for frustration!
A note about using pack and go for backups:
The pack and go is so quick and easy to use that I use it now for my backups. In fact, I e-mail a copy of my pack and go file to my gmail account (which I use for online backups) so I'll always have an off-site copy of my donor data.
Here's an article I wrote about that:
http://www.donormanager.com/forum/viewtopic.php?t=234
I hope that helps. The key thing to remember is that if you start up the Donor Manager and it can't seem to find your data, don't panic! I'll be glad to help you get things fixed up.
And, you are making regular backups, aren't you ? !